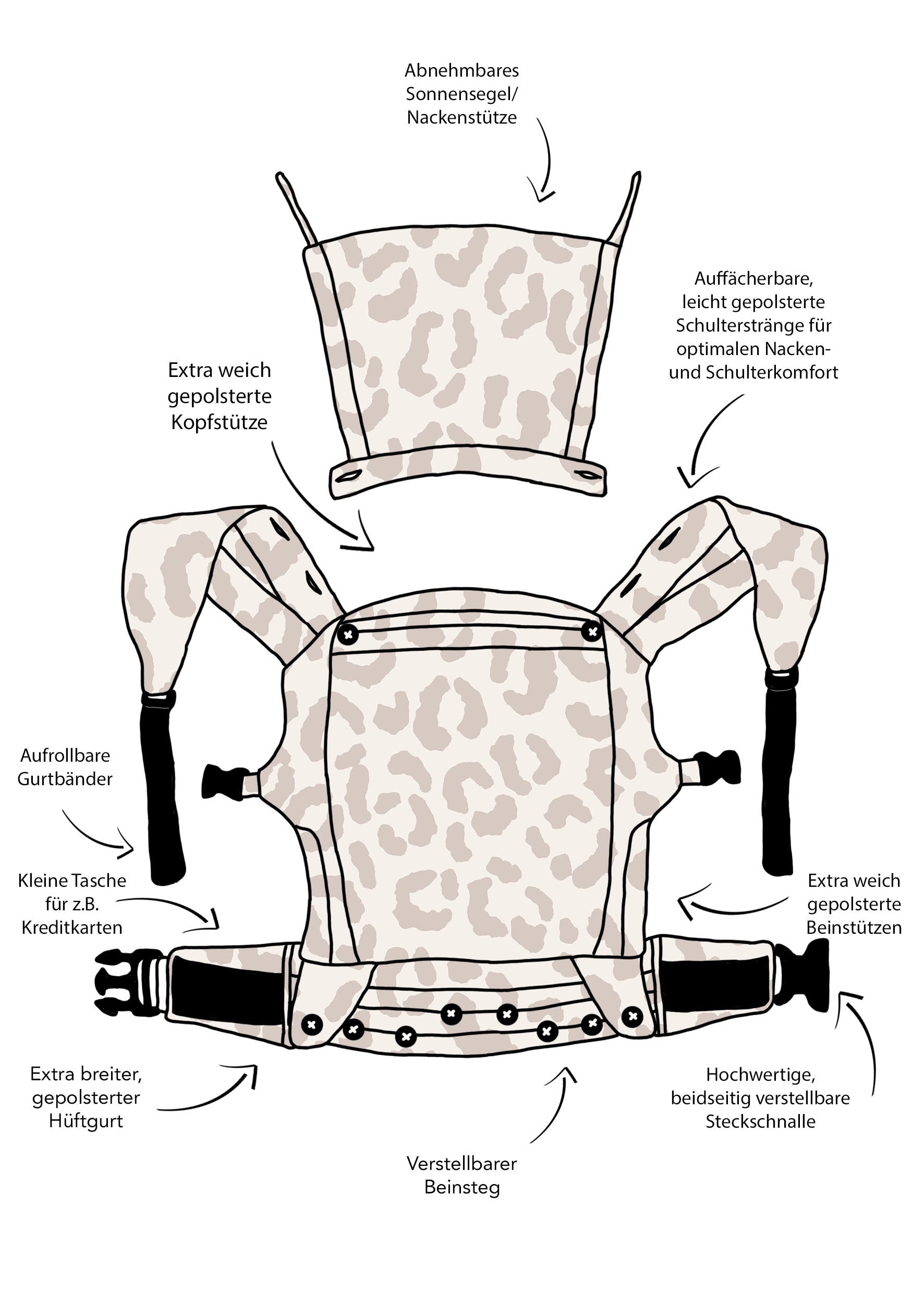 sandiia® baby carrier Tiimeless Leodiia Black
Sale price

$263.05 USD
Regular price
(/)
Tax included. Excl. customs duties (for orders outside the EU). Shipping calculated at checkout
Free: headrest, brochure & online carrying advice
Free shipping available. Shipped from Germany. Delivery time approx. 2-3 days (within Germany).
Wähle aus folgenden Zahlungsarten
The light and very soft sandiia® baby carrier ensures optimal weight distribution through ...
... a comfortable, padded hip belt

... extra softly padded leg openings
... a padded headrest
... X-shaped, lightly padded shoulder straps that run over the shoulder.
The shoulder straps are attached with two buckles. You can put your child down without waking them up (no loud velcro!). The carrier is optimized so that you can put it on and take it off by yourself.

Ergonomically correct – for a healthy back

The leg strap can be easily adjusted with the buttons on the inside and ensures that your baby is in the correct and safe position in the carrier.

We dye our baby carriers with ÖkoTex 100 certified dye. Unfortunately, black cannot be dyed naturally. Therefore, we always have to dye deep black with synthetic dyes. However, since we use environmentally friendly and, above all, baby-friendly colors that are less aggressive, the baby carrier may fade more quickly. The color of the baby carrier changes mainly due to long exposure to UV radiation.
Your baby sits in the baby carrier with its tummy facing you. Your baby should never be placed face forward in the baby carrier when you are carrying the carrier on your front as it can damage your child's hips. The back cannot curve like that. In addition, the baby can suffer from sensory overload because it cannot turn its head away.

But you can carry it on your back as soon as it can sit up on its own. From the sitting age you can also use it on your back. Use the included strap for this.
Our baby carrier Tiimeless is suitable for newborns from approx. 3 kg and small children up to 15 kg.

If your baby is particularly small (e.g. due to a premature birth), consult your midwife/pediatrician/carrying consultant to be on the safe side.
The baby carrier was designed for all body shapes and sizes. This means that both parents can use the baby carrier.

The hip belt has a minimum length of 70 cm and a maximum length of 130 cm. The stretcher should be positioned at waist height.
Download the instruction brochure here!

GERMAN

WARNING!

When using this baby carrier, please monitor your child constantly.
For low birth weight babies and children with medical conditions, consult a doctor before using the product.

Risk of falling

Toddlers can fall out of the carrier through a wide leg opening.
Always adjust the leg openings to your baby's legs.
Set before each use make sure all fasteners are closed. Be careful when walking and leaning. Never bend at the waist, always bend at the knees. Only use this carrier for children between 3 kg and 15 kg.

Choking hazard

Infants under 4 months old may choke in this product if face is pressed firmly against your body. Never press the child too tightly against your body and leave room for head movements. Keep infants' faces clear of obstructions at all times.

NEDERLANDS

WARNING!

Houd uw kind in de gaten used as u deze draagzak.

For baby's with a long birth weight and children with medical aandoeningen, serves and arts te raadplegen alvorens het product te gebruiken.

Risk on Vallen

Small children can door a brede beenopening uit de drager vallen.

Pas de beenopeningen altijd aan de beentjes van uw baby aan.

Care is taken that all events before any other use will be made. Wees before het lopen en leunen. Buig nooit in de taille, maar altijd op de kneeen. Used weights for children weighing 3 kg and 15 kg.

Stikkingsgevaar

Baby's junior dan 4 maanden can stikken in the product as hun gezicht stevig tegen hun lichaam wordt printed. Druk het kind nooit te strak tegen uw lichaam en laat ruimte voor hoofdbewegingen. How het says the baby's te all tijde vrij van obstructies.

Francais

ATTENTION!

Lorsque vous utilisez ce porte-bébé, veuillez surveiller votre enfant en permanence.

 Pour les bébés de faible poids à la naissance et les enfants souffrant de problèmes de santé, demandez conseil à votre médecin avant d'utiliser le produit.


Risque de chute

Les nouveau-nés peuvent tomber du porte-bébé si l'ouverture pour les jambes est trop large ou mal réglée.

Ajustez toujours les ouvertures pour les jambes en fonction de la largeur des jambes de votre bébé.

Avant chaque utilization, assurez-vous que toutes les attaches sont bien fermées. Faites attention lorsque vous marchez ou lorsque que vous vous appuyez quelque part. Ne vous baissez jamais en avant mais pliez toujours les genoux en gardant votre dos bien droit. N'utilisez ce porte-bébé que pour des children from 3 kg to 15 kg.

Risque d'étouffement



Les nourrissons de moins de 4 mois peuvent s'étouffer avec ce produit si leur visage est trop fermement compressé contre votre buste.

Ne comprimez jamais l'enfant trop fortement contre vous et laissez assez de place pour lui permettre de bouger la tête. Veillez à toujours garder le visage du bébé à l'écart de toute obstruction.

Polski

OSTRZEŻENIE!

Podczas korzystania z nosidełka należy cały czas obserwować dziecko.

Dla niemowląt z niską wagą urodzeniową i dzieci z chorobami, przed użyciem należy skonsultować się z lekarzem.

Małe dzieci mogą wypaść z nosidła przez szeroki otwór na nogi

Zawsze dopasowuj otwory w nogach do nóg dziecka.

Przed każdym użyciem należy upewnić się, że wszystkie elementy złączne są zamknięte. Bądź ostrożny podczas chodzenia i pochylania się. Nigdy nie zginaj się w talii - zawsze w kolanach. Używaj nosidełko tylko dla dzieci o wadze od 3 kg do 15 kg.

Ryzyko uduszenia się

Niemowlę poniżej 4 miesiąca życia może dusić się w tym produkcie, jeżeli jego twarz jest zbyt mocno przyciśnięta do twojego ciała. Nigdy nie naciskaj dziecka mocno na ciało i pozostawiaj wystarczająco miejsca na ruchy głowy. Twarz niemowlęcia powinna przez cały czas móc się swobodnie poruszać.

.
We produce in small editions, fairly in a manufactory in Turkey. This also shortens the transport route to Germany and protects the environment.
Our sling fabrics are made from 100% organic cotton. We pay attention to excellent and safe quality.
You can remove small stains with soap and warm water. The stretcher is otherwise washable at 30°C. Please always wash them separately and without fabric softener. The buckles should be closed and it is best to use a wash bag/net.
Sandiia® was founded by two moms. All products are personally developed. With a lot of love, passion & lifeblood. Very close to the pulse of time and with an eye for detail.
All standard shipments with DHL to Germany, Austria, Belgium and the Netherlands and many other countries are free of charge from an order value of €100.

The shipping costs for European and international shipments are automatically added during the ordering process.

For shipping outside the EU, duties, taxes and fees apply. Unfortunately, we do not have any influence on this.

The delivery time within Germany is usually 1-3 working days after receipt of payment.

We send all packages insured and with tracking.

FOR RETURNS FOLLOW THIS LINK:
sandiia® baby carrier Tiimeless Leodiia Black
Sale price

$263.05 USD
Regular price
Choose options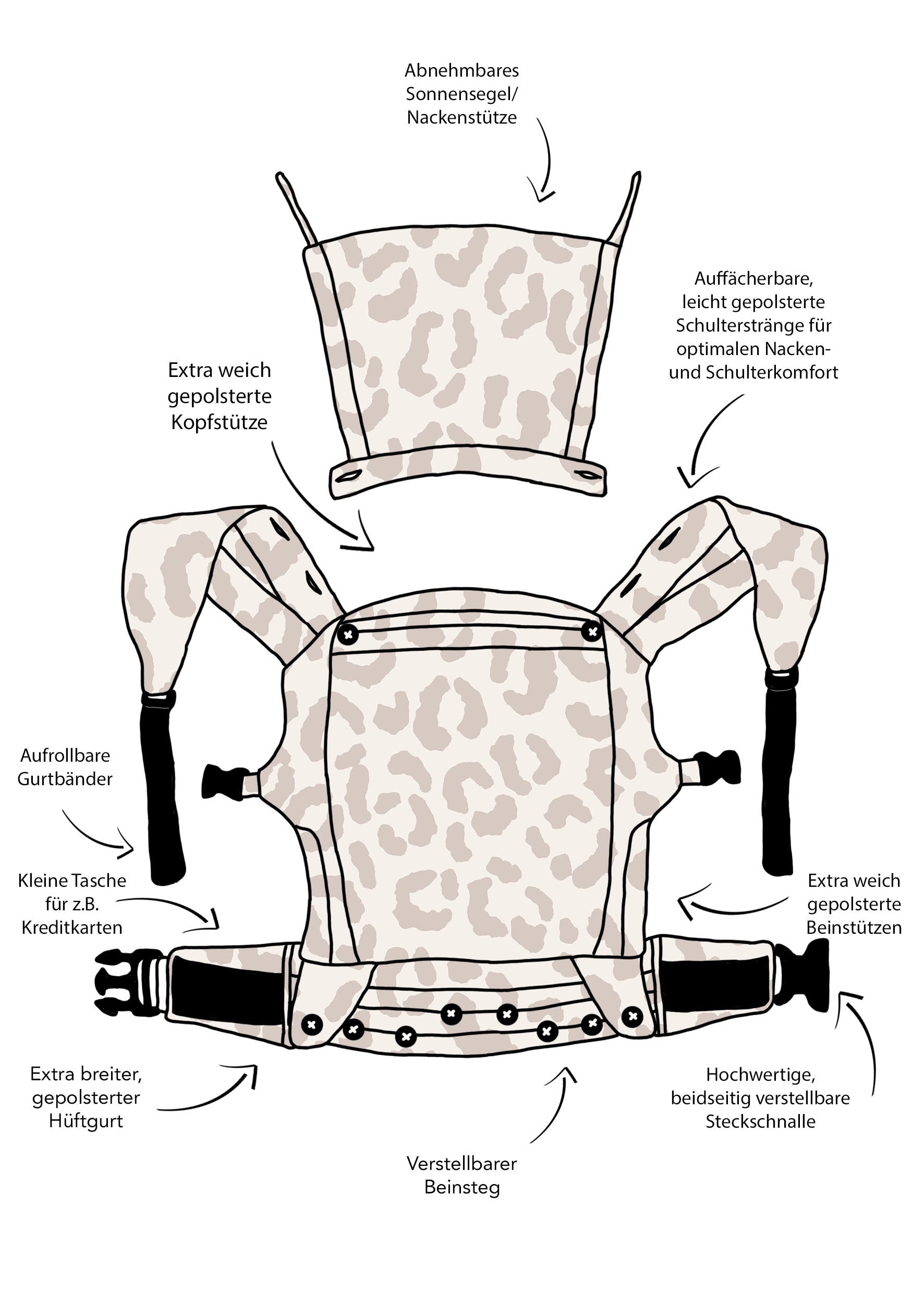 With your baby carrier you will receive...
... a removable headrest ✔️
Each stretcher comes with a free headrest. This provides additional support for your baby's head. It can also be used as sun protection and as a growing back piece. Rolled up, it serves as an additional neck support.
... a matching protective bag ✔️
Your baby carrier will be delivered in a matching protective bag, which is also made of organic cotton. So you can take your baby carrier with you everywhere and stow it away safely.
... a free online babywearing consultation ✔️
Do you still have questions, are you unsure or just need feedback from a professional? With every purchase of a baby carrier you will receive a free babywearing consultation.
Book a babywearing consultation directly here
Top rated by our sandiia parents: