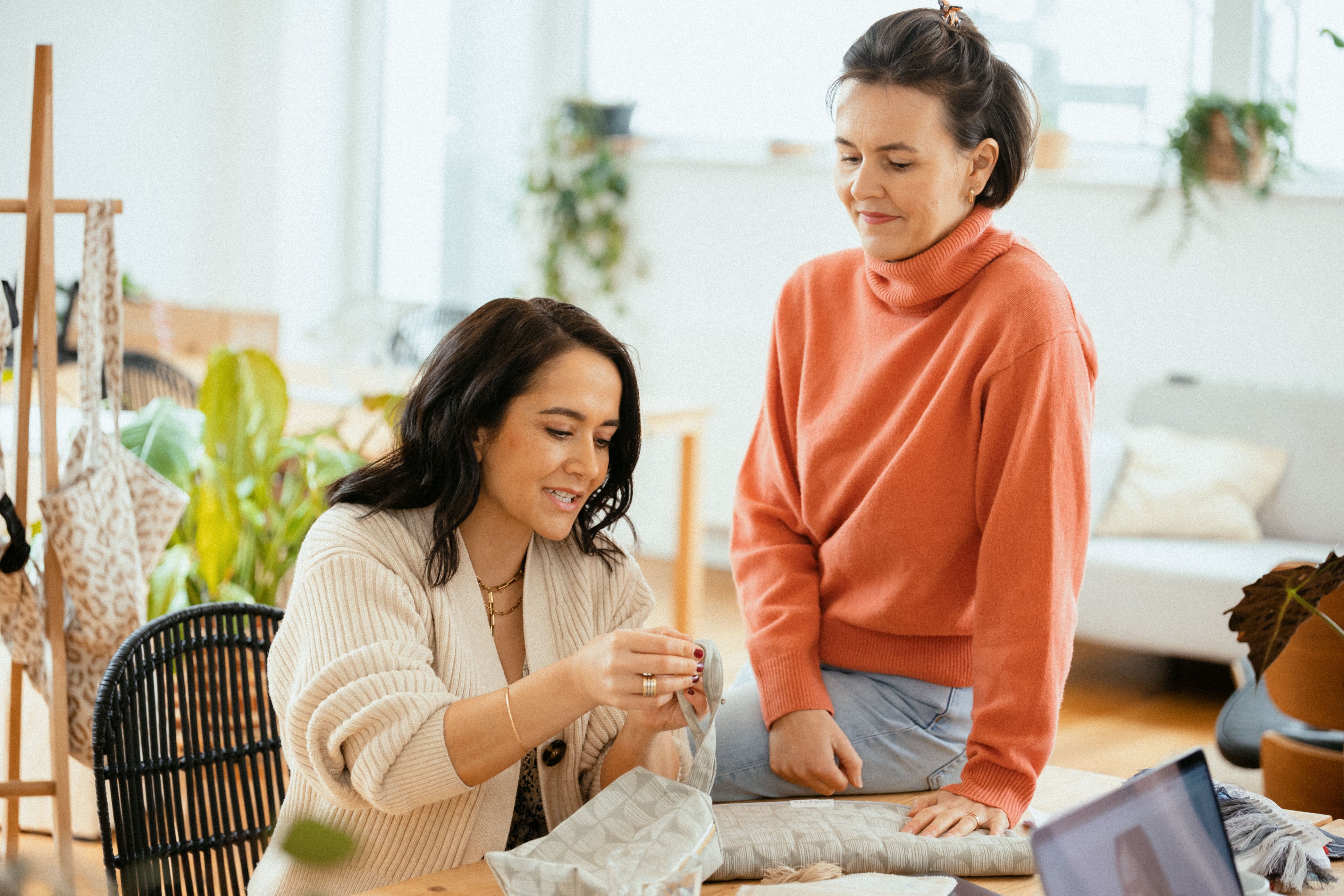 Interview with the founders of sandiia®
Who is actually behind the sandiia brand? They are two friends and moms who got together in 2018 to fulfill a big dream:
-How did you two meet? 
We met in an advertising agency in Düsseldorf in 2013 and hit it off immediately. It was love at first sight 😉 A few years later we got pregnant almost at the same time. This intensive time then welded us together again in a special way.
-How did the idea for sandiia® come about?
During our parental leave, we both had to realize that there are no fashionable and beautiful baby carriers that are ergonomic at the same time. As a result, the subject of carrying was (unfortunately) not very attractive for both of us, which is a shame, of course, because carrying is the most natural way to transport your child, to calm it down and it is incredibly helpful for the child's development.
-And how did you put your idea into practice?
When we both returned to agency life after maternity leave in 2016, it was clear to us that this work would not completely fulfill us. We got more and more into the idea of ​​leading a life as a digital nomad. to be flexible. Sometimes work from home. In the time before the pandemic, that was almost never possible.
Then we dealt intensively with the topic of baby carriers again and started to research. The competition, the target group and of course the procurement of goods in our case - weaving mills. It quickly became clear to us: we can do better! In 2018 we founded our company. We first started with woven slings. We developed the designs and patterns ourselves. When we went online with our shop in 2019. we didn't expect such a success. The towels were very well received and we had already generated 3 sales on the first day - one even to Hungary. Without advertisement! We always stayed on the ball and eventually developed our own baby carriers from scratch. The best thing about it: We were able to implement everything that was important to both of us as mothers. That was the absolute game changer and success was inevitable. Since then it's only been uphill.
- Who helped you with the founding?
We didn't get any help and decided a lot just based on gut feeling. Everything was learning by doing. If we got stuck somewhere, we researched or asked around. But the most important thing: we just started and kept going and never gave up. The best thing: we were not alone and could always push and support each other. Since we complement each other very well, it was just a lot of fun.
-What are the obstacles? Especially with small children.
To be honest, the pandemic has played into our hands somewhat, as it has allowed us to work a lot from home. The way to the office was eliminated, the lunch breaks could be used for sandiia. We could manage our time better ourselves. We worked every free second for sandiia, especially in the evenings when they slept or at the weekends when they were out with their fathers. We loved doing it because it was our baby together!
-What fears and expectations did you have when you founded the company?
We had no fears because we always believed in our idea and started without any major financial risk. Because we really did everything on our own, we not only saved a lot, but also learned a lot. A permanent position also involves risks, the last 3 years have shown us that nothing in the world is safe. You have to take your life and professional happiness into your own hands.
-What is your day-to-day work like?
We are currently living our dream! The nice thing is that we can work very flexibly. That was always our wish and goal. We work in the mornings when the children are at school and daycare. Meetings, customer appointments, brainstorming, training, planning social media content, etc. The most important thing we learned, good time management and setting priorities and sometimes handing over tasks.
-Where and how do you work?
We both work flexibly from anywhere. We have managed to become digital nomads. We have built our business in such a way that we are independent of time and place.
-What makes the carrier special? what is the concept
We have personally developed our baby carriers. Two mothers who put their heart and soul into a baby carrier. We implemented everything in the stretcher that would have been important to us back then. There is a lot of love in every detail of the carrier. Our carriers are not only stylish, but also super easy to use. In addition, our carriers are minimalistic without many frills but still ergonomic. Our stretcher has been tested and certified according to EU standards and as a hip-healthy product. Of course, our patterns and colors are also special. Before the customer gets our carrier, it goes through two independent quality controls.
-What are your next steps with sandiia?
Definitely expanding. We are already a well-known brand in Germany and the DACH region. Our goal is to do the same in other countries. Other products are also being planned ;) We still have so many ideas and look forward to implementing them in the future.