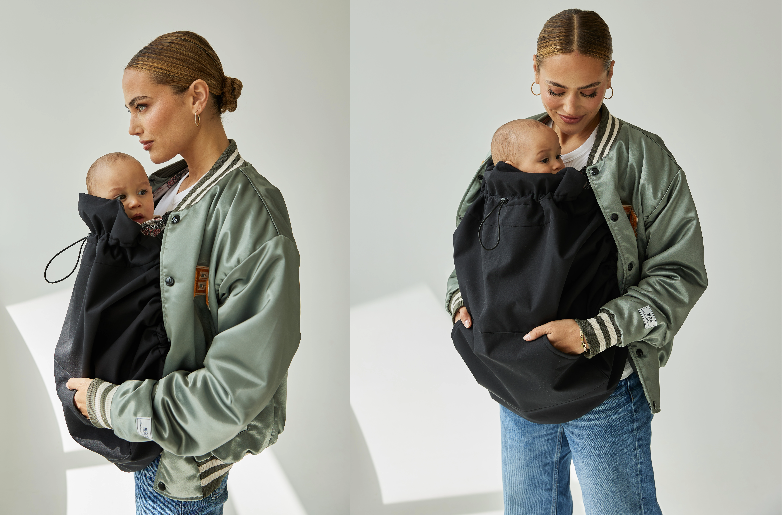 The sandiia® all-weather cover for baby carriers: protection, comfort and functionality
As winter approaches, it's especially important for parents to keep their little ones warm and protected while they enjoy the fresh air and do everyday activities. This season we are offering a winter cover for baby carriers that offers exactly what parents and babies need: protection from wind and water, cozy warmth and the ability to store everything you need in the integrated pockets.
Protection from the elements
One of the most notable features of the sandiia® winter baby carrier cover is its ability to protect babies from the uncomfortable aspects of winter. Here's what it offers:
Waterproof and windproof softshell material : The cover is made of high-quality softshell material that is waterproof and windproof. This means you don't have to worry about carrying your baby outdoors in rain, snow or cold wind.
Insulation for extra warmth : The cover provides an insulated layer that keeps your baby warm and cozy, even in the coldest winter months. This means you can even enjoy longer walks outside without having to worry.
Comfort and practicality
In addition to protection from the elements, the sandiia® winter cover also offers comfort and practicality for parents and babies:
1. Soft fleece lining : Inside the cover there is a soft fleece lining that offers your baby a comfortable wearing experience.
2. Integrated pockets : The cover has pockets in which you can also protect your hands from the cold.
3. Easy to use : The cover can be easily attached to the baby carrier and fastened securely. Thanks to the adjustable straps, it fits most standard baby carrier models.
4. Versatile use : The sandiia® winter cover is not only suitable for outdoor walks, but also for use when shopping or other activities. It offers protection and comfort no matter where you travel.
Conclusion
The Sandiia Winter Baby Carrier Cover is an excellent solution for parents who want to keep their little ones warm and protected during the cold winter months. With waterproof and windproof softshell material, integrated pockets and a soft fleece lining, it offers everything you need for a pleasant outdoor experience. Give your baby and yourself the freedom to enjoy winter to the fullest without having to worry about cold and wet conditions. The sandiia® all-weather baby carrier cover is a practical and stylish accessory that is essential this time of year.